What's On in and around Trie and Castelnau ~~~ Qué de nau au pais de Tria e deu Manhoac?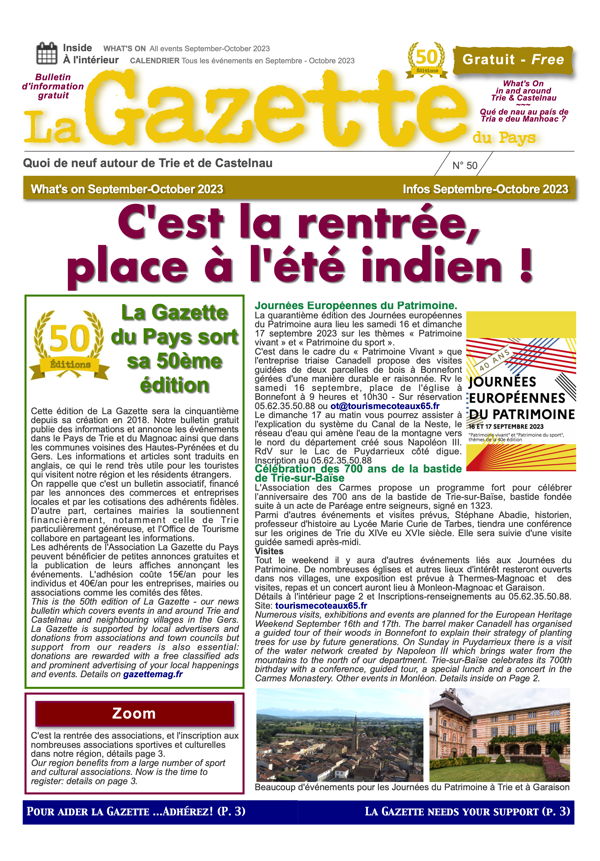 La Gazette is an associative community bulletin covering Trie-sur-Baïse, Castelnau-Magnoac and the surrounding towns and villages in the Hautes-Pyrénées and the Gers. La Gazette provides « What's On » information in English and French and relies upon the local community to provide information about upcoming events so that they can be included in the listings. La Gazette is published every two or three weeks and is available in shops, cafés, restaurants, supermarkets and other strategic locations in and around Trie and Castelnau-Magnoac. It is also available on the internet on www.gazettemag.fr. La Gazette is available entirely free of charge. As an association, individuals can join La Gazette as members for an annual fee of 15€ (click here). For businesses and other association, the annual fee is 40€ (click here). Association members have the possibility to place classified adverts in the « Annonces » section of La Gazette as no extra charge but within reason, subject to available space, and entirely at the discretion of the editorial team.
As a member of the Association La Gazette du Pays you can receive La Gazette by e-mail the day prior to publication. La Gazette is also available on this website.
In order to continue publication we need all the support we can get: you can help by joining the association and subscribing to La Gazette by completing one of these forms – you can also make a donation to the Gazette association by clicking here.
You can contact us with information and suggestions: par e-mail at ou by letter: La Gazette du Pays, La Mairie, 65220 Trie-sur-Baïse.