La Pourcailhade fête ses 40 ans
« À TRIE, le cochon, on l'entend, on le voit, on le mange … »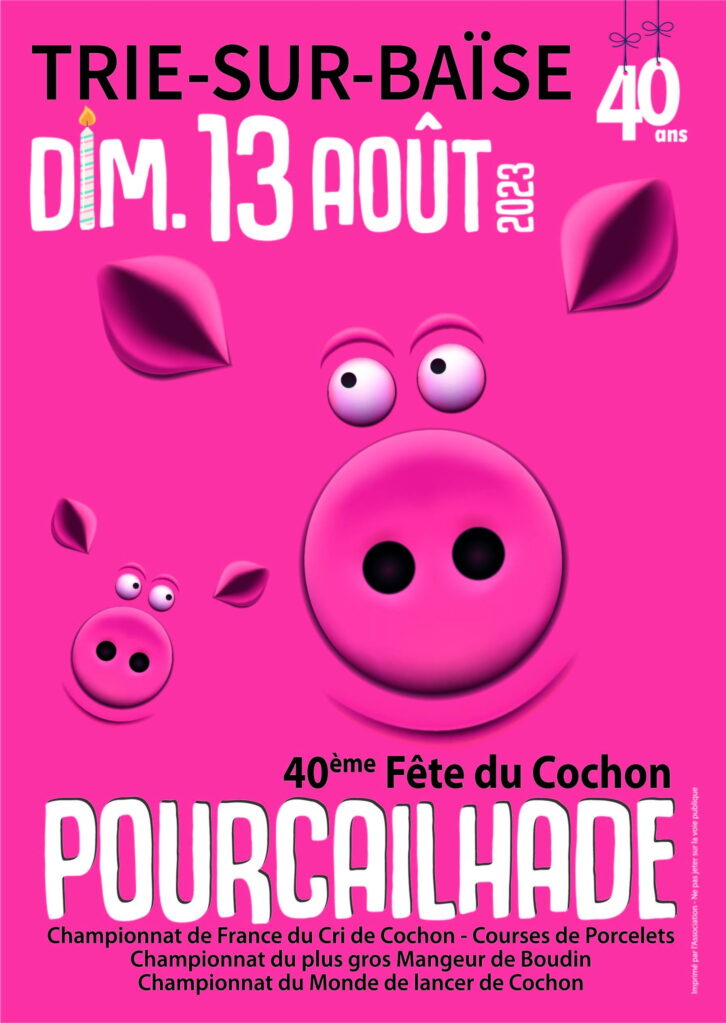 L'Association des commerçants et artisans triais organise la 40ème Fête du Cochon le dimanche 13 Août. La Fête du Cochon, La Pourcailhade, est sans doute l'événement qui a fait connaître Trie-sur-Baïse partout dans le monde, fondé par la confrérie du cochon en 1975 à l'époque où Trie était le plus grand marché de porcelets en France.
Comme chaque année on peut attendre le champion, Noël Jamet, qui viendra défendre son titre. champion de France du cri de cochon 6 fois depuis 2008 mais aussi champion du monde de la discipline depuis 2019.
La Pourcailhade 2023 promet d'être une journée insolite et amusante pour toute la famille.
The world famous pig festival celebrates its 40th year with lots of piggy stuff, food, contests, fun and entertainment all day. Highlight: the French Pig Squeal Imitation Contest at 3pm.
Toute la journée: Pesée de jambon, le Coupe-saucisson, Peinture sur cochon, Marche de charcutiers et produits locaux, etc…
8h15 Randonnée: Départ à 9h, 10kms de marche organisée par Trie'Gym
11h30 Apéritif animé par Monsieur Greg l'Homme Orchestre
12h30 Grand Repas de cochonnailles, 17€
14h00 Course de Porcelets « le Trie-Porc »
15H00 Championnat de France du « Cri de Cochon »
16h00 Championnat du Plus grand mangeur de boudin
17h00 Championnat du monde de Lancer de Cochon
18h00 Deuxième course « le Trie-Porc »
19h00 Apéritif et soirée animée par Monsieur Greg
20h00 Grand Repas de cochonnailles, menu à la carte.